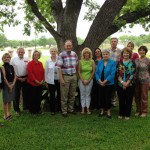 April 4, 2012 – AUSTIN – The Texas Association of Realtors today announced its decision to endorse Tracy King in his election to the Texas House to represent District 80. Making the statement last week, Chairman Joe Stewart applauded King's commitment to Texas homeowners.
"The next legislative session will be filled with difficult decisions," said Stewart. "That's why we need lawmakers like King who understand the critical role homeowners play in keeping our state prosperous, which is why we've pledged our full support."
Texas is leading the nation's economic recovery, due in large part to its strong real estate market. To maintain that momentum, Texas' lawmakers must understand homeowners' concerns and act to bolster homeownership in the state and supporting those efforts is the association's top priority this election season. As a member of the Texas House for more than seven years, Tracy King has been involved in the political process at all levels, promoting policies and supporting initiatives in the best interests of property rights and homeownership throughout the state.
"I am honored to have the endorsement of the Texas Association of Realtors," King said. "As small business owners, Texas Realtors make the dream of homeownership more affordable for all Texans and I will strive to help support this important goal."
As one of the largest and most influential trade associations in the state, the Texas Association of Realtors expects to be a considerable grassroots force for Tracy King.
Texas Realtors have championed a number of legislative issues enhancing the lives of Texans, such as urging reforms to the property appraisal system in 2011 and 2009, preventing a tax of $600 or more on the personal vehicles of independent Texans in 2007 and advocating for billions in property tax reductions in 2005. To learn more about Texas Realtors' legislative advocacy on behalf of its members and homeowners, visit TexasRealEstate.com.
About the Texas Association of REALTORS®
With approximately 80,000 members, the Texas Association of REALTORS® is a professional membership organization that represents all aspects of real estate in Texas. We advocate on behalf of Texas REALTORS® and private-property owners to keep homeownership affordable, protect private-property rights, and promote public policies that benefit homeowners. Visit TexasRealEstate.com to learn more.
-30-