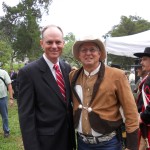 AUSTIN, Texas – Representative Tracy King participated in a ceremony for the unveiling of the Tejano Monument at the Capitol on Thursday, March 29. The monument honors the many contributions of Tejanos to the Lone Star State.
"Any time school children come and see that monument, they will know the State of Texas has a much longer history than is traditionally taught and the Tejanos played a great role in the history of the State of Texas," Rep. King said at the ceremony.
The Mission of the Tejano Monument is to emplace a monument on the Texas Capitol grounds to establish an enduring legacy that acknowledges and pays tribute to the contributions by Tejanos as permanent testimony of the Spanish-Mexican heritage that has influenced and is inherent in present-day Texas culture.
"I want to congratulate Armando Hinojosa, from Laredo, on his great work and for creating such a powerful sculpture for everyone to enjoy for generations," Rep. King said.
The 525 square foot monument, located at the southeast corner of the Capitol grounds, portrays a Spanish explorer, a vaquero on his mustang, a longhorn bull and cow, and a family of settlers. The bronze statues are mounted on a 250-ton piece of pink granite.
For more information or to contact Rep. King, please call the Capitol office at (512) 463-0194 or the district office in Eagle Pass at (830) 773-0860.
###